Surveytime is one of the fastest paying survey sites. You get $1 for each survey, you can join from all countries, and you get paid instantly once you complete a survey.
Surveytime is a paid survey site where you supposedly can get instantly rewarded for completing online surveys.
I have joined and tested it myself and have used it regularly over the last few years, and I have also been paid by it many times.
Step 1 – Register and confirm your email
To get started at Surveytime
Step 2 – Fill out a profile survey
The next step on Surveytime is a bit different from most other survey sites.
Right after you join, you are asked to take a survey to fill out your profile so they can match you with surveys.
survey time intro questions
Right after you join, you have to take a profile survey.
Most survey sites have a profile you can fill out to get a better chance to qualify for surveys so there is nothing unusual in this in itself.
So make sure to fill out the survey profiler if you join – it will be worth it on the other side
Step 3 – Take surveys
I was very curious to see what Surveytime actually offered on the inside.
It actually turned out to be quite a lot of survey opportunities. When I first joined Surveytime, there was a list of surveys inside the member area. This has, however, changed. Now there are two ways you can get access to surveys here.
One way is to log in to the member area. Here you will then see if there is a survey available for you.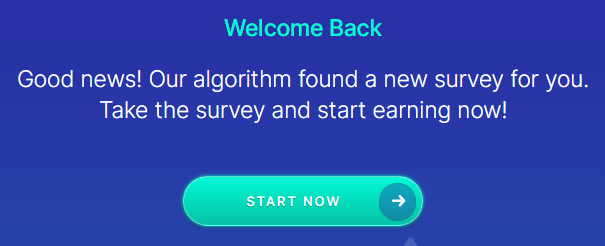 Inside the member area you find the survey scanner.
It works like a survey scanner. It looks for surveys, and if there are any, you will get the message you can see above. This does not mean you will necessarily qualify for the survey. But if you do not qualify, the scanner will scan for another survey and see if there are other surveys available.
Sometimes it can take some patience to find the surveys you qualify for, but there is a good number of surveys available through the member area. There might even be times when there are none, but then you can check back later.
This is all you can find inside the member area. There is not even a profile where you can edit your password or anything like this. There is just the survey scanner.
There is one more way you can get surveys. Once you have signed up, you will sometimes receive an email with a survey invitation.
How do you get paid?
The payout method is another area where Surveytime is a bit different from many other sites.
The first thing you need to know is that all surveys give the same reward. Every time you complete a survey, you will get $1.
If there are no $1 surveys available, you might be offered a survey for $0.50 but you will always be told before starting the survey. And the general rule is that you will earn $1 per survey.
I have tried to get $1 for a 2-minute survey and also get $1 for a 7-minute survey. There is no differentiation which, of course, makes it very easy to know exactly what you get.
Some surveys will this way have a very high reward compared to other survey sites, while others might have a slightly lower reward. But overall the reward in relation to time spent is very good on Surveytime compared to many other sites.
At the moment of updating this review, Surveytime is also testing giving access to easier surveys for $0.50 but this is something you would have to opt-in for at the moment and it is in the testing phase so it might not even be available for you.
As soon as you have completed a survey, you will be asked how you want to get your reward. The type of reward available depends on your country. But most countries offer PayPal and Bitcoin as options.
Final verdict
Surveytime is a legit and simple survey site that pays out quickly.
This does not necessarily mean it is the best site for you. So let's finish by summing up the pros and cons so you can get a better overview to help you decide whether you should join or not.
Pros:
Free to join
Available worldwide
Pays out very quickly
Usually daily opportunities
Very easy to use
Cons:
You cannot decide when you want a payout yourself
Sometimes support can be a bit slow. There is no app
There has been some complaints about technical issues at times
Join here:- https://surveytime.io